‹ back to our blog articles
Vintage Jewelry: Past and Present
---
Award-winning television show, Downton Abbey has captivated audiences with its gripping drama, and of course, the breath-taking wardrobe and jewelry worn by the Grantham family and their friends.  We are excited the show has highlighted this exceptional time in jewelry history.
Downtown Abbey begins during the Belle Epoque period (1871-1914), a time of opulent, yet delicate jewelry, as demonstrated by our very own estate brooches.  In the early 1900's, Louis Cartier became the first jeweler to successfully create platinum jewelry, launching it's popularity in the following decades.
Much of the jewelry in our estate collection incorporates platinum, which was widely used for its ability to enhance the brilliance of diamonds.
Today, these vintage inspired designs are widely sought after by brides looking for an engagement ring that will stand the test of time.  We are proud to offer these discerning customers rings by Jabel, a company who specializes in vintage reproductions.  In fact, they still use the same molds to create their rings that they used when the company began in 1916.  Below is an example of a stunning vintage engagement ring reproduced for us by Jabel.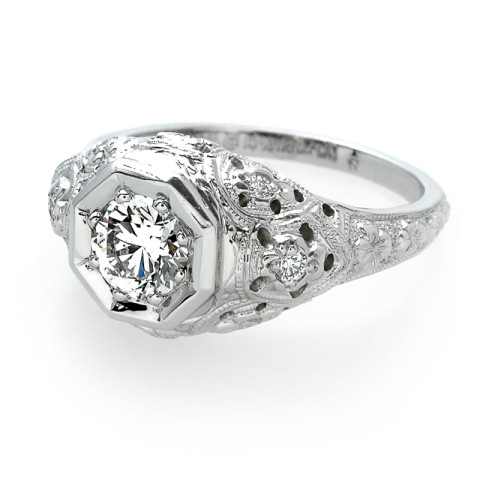 For those who may not be quite ready to commit to a full-on vintage piece, incorporating vintage elements into an otherwise modern design is the perfect compromise.  The ring pictured below is a great example.  The channel set princess cut diamonds along the shoulders keep it modern, but the hand-engraved details give an elegant nod to the past.
To learn more about the exceptional jewelry seen on Downton Abbey, check out the GIA's informative article here.  Or better yet, come to J.M. Edwards and explore our own collection of estate, and vintage-inspired jewelry and engagement rings.