The J.M. Edwards Team
Rose Edwards
Rose Edwards is co-founder of J.M. Edwards Jewelry.   Having grown up on a farm outside of Cary and Apex, she has seen many advancements in our communities.  Always having a passion for jewelry, she began her profession as a bench jeweler and designer.   As a graduate of the University of North Carolina in Greensboro, she credits her Bachelor of Fine Arts for giving her the tools to go on and study jewelry making through the Gemological Institute of America.   Rose has enjoyed a career that has given her the opportunity for artistic expression by sharing special occasions with others.
---
Carl Edwards
Carl Edwards is the second generation to take the helm at J.M. Edwards Jewelry.  He studied jewelry design at the Gemological Institute of America and at the Fashion Institute of Technology in New York.  After completing a Bachelor of Science degree at N.C. State University, Carl has returned as Artistic Director for jewelry designs, photography, and advertising.   He brings to J.M. Edwards a wealth of creativity and energy having grown up involved in the jewelry industry.
---
Christian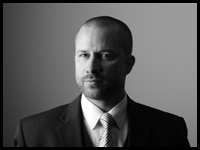 Christian joined the team at J.M. Edwards Jewelry eighteen years ago.  A former bench jeweler, Christian began his professional jewelry career in 1996.  Christian is a G.I.A.  Accredited Jewelry Professional, G.I.A. Diamonds Graduate, G.I.A. Pearls Graduate, and holds a G.I.A. Colored Stones Certificate.   At J.M. Edwards Jewelry, Christian is the Sales Manager specializing in customer relations.
---
Kui Juin
Kui Juin was born in Seoul, Korea and came to the United States in 1997. He has been hand fabricating and designing jewelry for twelve years. Kui Juin's jewelry is a reflection of his character. His classic designs represent his ever present desire for perfection.
---
Michael Edwards
Michael Edwards is a co-founder of J.M. Edwards Jewelry.  Michael began his career as a jewelry professional in 1969 when he graduated from the Gemological Institute of America.  He also holds a Bachelor of Science in Geology from the University of Southern California at North Ridge.  Michael is the Senior Gemologist at J.M. Edwards Jewelry.  Along with appraisal work, he also assists with loose diamond and colored stone buying.  Michael holds the highest appraiser title of Certified Gemologist Appraiser.
---
Caroline Edwards Nickel
Caroline Nickel is also  a member of the second generation at J.M. Edwards Jewelry. She attended the University of North Carolina in Chapel Hill for undergraduate studies and graduated from Pepperdine University receiving a Juris Doctorate. Caroline takes time from her busy schedule as an attorney to work at J.M. Edwards Jewelry.  She is the Fashion Adviser for purchasing  and also manages the business office.   Her enthusiasm for clothing and jewelry trends helps J.M. Edwards  Jewelry stay ahead of the curve.