‹ back to our blog articles
Birthstones By Month
---
Surely at some point in time you have learned what your birthstone is, but do you know what your birthstone means? Each and every one of the 12 birthstones has some kind of meaning or symbolism.
See our guide to birthstones, below!
January – Garnet
January birthdays, your birthstone is symbolic for passionate devotion, friendship and vitality. Though often seen in a red hue, Garnet is also available, naturally, in a variety of colors.
February – Amethyst
In beautiful hues of purple, February's birthstone is a symbol of sincerity and security. This birthstone contrasts beautifully with diamonds.
March – Aquamarine
Often found on the east coast of the United States, aquamarine is the birthstone for those born in March. It symbolizes loyalty, honesty and beauty.
April – Diamond 
Let's just say April babies are a lucky group! Almost everybody's favorite gemstone, the diamond is the birthstone for those born in April. Diamonds have been known to symbolize love and eternity, which is why they are often used in engagement rings.
May – Emerald 
The beautiful, green emerald is a symbol for wisdom, faith and domestic bliss. The birthstone of those born in May, emeralds are known to be green, but can appear to have blue or yellow undertones.
June – Pearl
A unique gemstone, due to the nature of its existence, the pearl is a symbol for success, happiness and love. Pearls are created, naturally, inside of oysters and are a lusted after gem.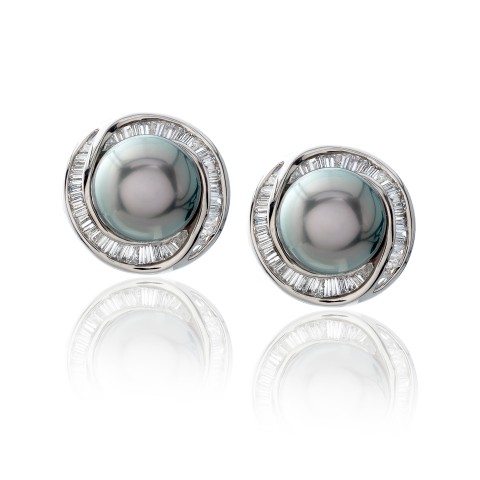 July – Ruby 
The bold birthstone of those born in July has had several meanings over time. In modern day they symbolize love and passion, but they have also been believed to protect their wearers from evil and attract good luck.
August – Peridot
The birthstone of August birthdays, the peridot always appears in green though the intensity may vary based on the levels of iron in the stone. The peridot symbolizes strength and is believed, when set in gold, to protect against evil dreams.
September – Sapphire
Most commonly seen in blue, the sapphire is representative of peace and serenity. Though often seen in a deep, beautiful blue, sapphires can be found in pink, white or yellow.
October – Opal
A beautiful, color-changing gem, the opal is the birthstone of those born in October. The opal symbolizes hope and innocence.
November – Topaz
Topaz can be found in a number of colors, including the blue topaz of December's birthstone, but is most popular in blue or an orange-ish hue. Topaz symbolizes consistency, faith and friendship. It has also been thought to heal breathing disorders.
December – Blue Topaz
A color variation of topaz, this birthstone of those born in the last month of the year, has a cool, icy hue, appropriate for December. Gifting this stone symbolizes love and fidelity.
Raleigh, Durham and Cary residents, what is YOUR birthstone?
Remember, at J.M. Edwards Jewelry in Cary we can create custom jewelry. Do you want a piece in your birthstone, to reflect your personality? Allow us to design something for you! Give us a call today or stop by our showroom today to see what we can do for you!